Blending the ease of missionary with eroticism, trust us when we say that you're bound to both be very satisfied.
Sex Position: The Praying Mantis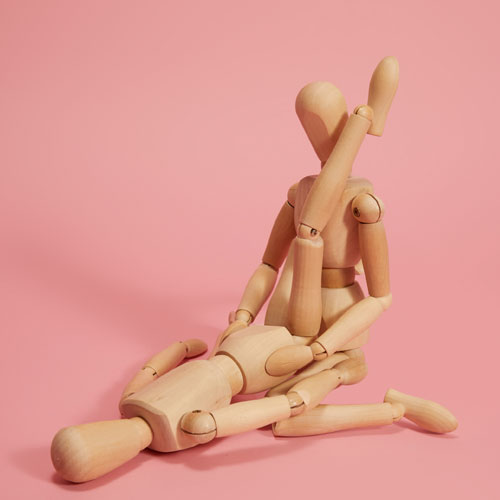 Let's do it like they do on the discovery channel. Forget doggy, there is a new go-to position from the animal kingdom – The Praying Mantis.
This super easy position is the ultimate way to achieve G-spot orgasms, clitoral orgasms and leaves you in the perfect position for nipple play. Lay back and revel in the intense sensations. Slip a pillow beneath your lower back and have your partner kneel at your base with their legs slightly spread. With one leg over their shoulder and the other to the side, the Praying Mantis sex position provides the perfect angle and depth for mind-blowing G-spot massage.
Laying back and focusing on the unparalleled pleasure, circle your hips and grind your way to orgasm. Have your partner use their hands to caress your body – working on all of your favourite erogenous zones. Take it slow and have them work their way down your body; playing with your hair, stroking your neck, tweaking your nipples and finishing by stimulating your clitoris. Add a small vibrator to the mix and tip yourself over the edge into blended orgasms. To heighten the sensations in your G-spot, add a pea-sized amount of G-spot Gel and have orgasms guaranteed.
For your partner, this position provides more than just pleasure, it's all about the red hot visuals too. Find a new way to play.
Sex Position: The Boa
Re-kindle the romance and turn up the heat with The Boa.
This missionary-inspired position is the ultimate for some full-contact lovin'. Don't be fooled: this super simple position provides whole lot of pleasure.
Girls, climb on top of your partner, support you weight with your hands as you lean forward; intertwine your legs and grind your way to orgasm. The Boa provides direct stimulation to the clitoris, making it the perfect position to try if you usually struggle to reach climax from intercourse alone. Make the most of this romantic sex position with plenty of kissing and maybe even a side of dirty whispers. Slow and steady wins the race with this position so make the most of slowing it down and re-connecting.
If you need a little more stimulation to get you there, cool things down. Add a new sensation with a Cool Tingle Lube. The contrast between the heat of your bodies together and the cool freshness of the lube will heighten feelings and build awareness, taking you to next level orgasm.
If you're still left wanting more, try out a cock ring. They're worn by a male partner and provide direct vibration to the woman's clitoris. The Boa is the perfect position for this kind of toy. The pressure between the two of you will allow for constant stimulation – the angle and pressure will keep the cock ring firmly against your clit.
Try this out – orgasms are guaranteed.
Sex Position: The Frisk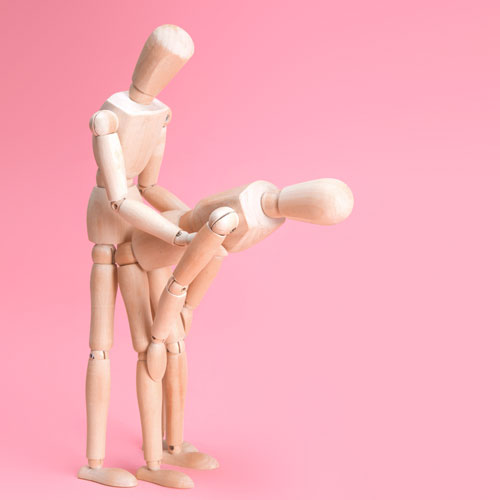 The perfect position for a quickie. Whether you're bent over the kitchen counter or having a change of scene in the great outdoors, The Frisk is the perfect way to get fruity.
The Frisk may be part of your everyday repertoire but it can be made considerably better with a few simple tips.
Get ready to take The Frisk to a whole new level.
Have your partner enter you from behind as you bend over. For deeper G-spot targeting sex, bend further from the hips, holding lower down your shins or your ankles. If you're flexible enough, place your palms on the floor and have your partner support you by holding your hips, making sure you don't topple forwards.
As with all sex positions, lube can make The Frisk feel even more incredible. Make sure you're both lubed up before your lover enters you. Using lubed up fingers, have your partner stimulate your clitoris or nipples. If manual stimulation doesn't quite get you there, add a bullet and run it from his scrotum up to your clitoris, varying the pressure and speed.
Any position from behind limits the view for the receiver. If you get off on the visuals, place a mirror on the floor between your legs. Watch as your partner enters you and get off on your very own, live action porn film. If you still feel like you're missing out on seeing your partner, have sex near a hung mirror to sneak peaks of their face and watch just how much they're enjoying it.
Need a little extra height? Forget wobbling around on tip-toes, rock your most seductive lingerie set with a pair of sky-high heels. Look incredible and make the most of the killer confidence.
Get Frisky.
Sex Position: Push and Pull
All relationships need a little give and take and a lot of Push & Pull. This may seem like the classic doggy style, but push and pull is all about angles.
Apply lots of your favourite lube and keeping your knees firmly together, have your man enter you from behind in a kneeling position. When you have got into your rhythm and are close to climax, get him to slowly lean back and switch to slow, deep thrusts. By leaning back, the angle of his penis will push firmly against the back of your vagina and hit your G-spot with every lip-biting push. If you can bear the anticipation, use a bullet vibrator on your clit at the same time and get him to pull out and wait for a few seconds. This will leave you begging for more and build up to the mother of all orgasms.
This position is also a great one if you're using a strap on. Switch roles and experience intense G-spot orgasms if you're a lesbian couple, or give your guy a climax he'll never forget by hitting the P-spot and pulling out at the point of climax. Ride on.
Sex Position: The Snail
Slow and steady wins the race — especially in the bedroom.
It might not have the nicest of names, but the Snail is a real love letter to couples who like to slow things down and get a new depth of appreciation. And if there's one thing this position is great for, it's getting deep — without sacrificing the intimacy of face-to-face contact that you might crave from your partner.
The Snail is easy to transition into from the Missionary position, but make sure you have plenty of lube at hand to really enjoy the depth of penetration that the Snail allows for.
To get into the Snail position, the receiving partner pulls their knees up to the other's chest while lying flat on their back and puts their ankles on the other partner's shoulders as they kneel in front. As the giving partner enters, they can use their body weight to lean forward onto the back of the receiving partner's thighs, pushing them down to hit that G-spot.
Want to amp up the intensity? Use your fingers — or, even better, a bullet vibrator — for extra pleasure that will help you or her reach an amazing a blended orgasm, even while you go oh-so-slow. Keeping that super-hot eye contact throughout will drive your partner wild; they won't be able to resist going harder and faster as you begin to climax together.
Going at this snail's pace will make your heart race.
Sex Position: The Column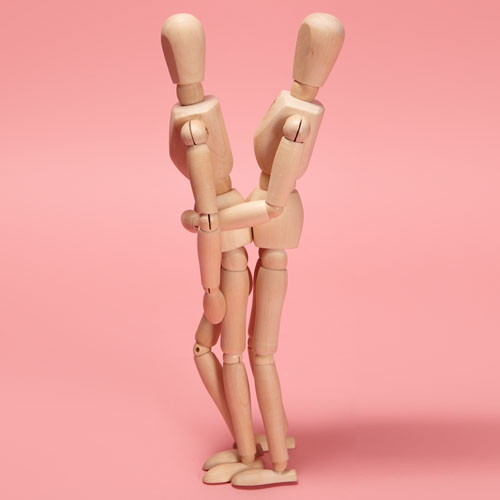 Get ready for a real standing ovation. The Column is the perfect sex position for intimate, energetic and totally satisfying sex. The best part is that you can do it anywhere — there's no bed, couch or counter top needed!
For the Column, both you and your partner need to stand upright facing the same direction, with your partner's chest snuggled close to your back. To begin with, you should entwine your arms to help you both balance and to increase intimacy.
Your partner should then enter you from behind, bending their knees if there is a significant height difference. Then, arch your back and lean forward slightly. Have you partner establish a steady rhythm – both slow and sensual or fast and hard work really well in this position, depending on what you're into. If you're having trouble balancing, this position works great up against a wall or when leaning your upper body over a chair.
The angle in which your partner enters you is amazing for deep G-spot penetration, and once you've established a rhythm, your lover can move their hands around to wherever takes their fancy. That's why this position is so popular — your partner can easily stimulate every part of your body, from your nipples to your clitoris.
To take your lovemaking to new heights of pleasure, have your partner hold a bullet vibrator against your clitoris for incredible blended orgasms.
The Column is sexy and intimate, and if you're into it, it's the perfect position for having your partner whispering some dirty talk into your ear whilst kissing your neck.
Sex Position: Get it Up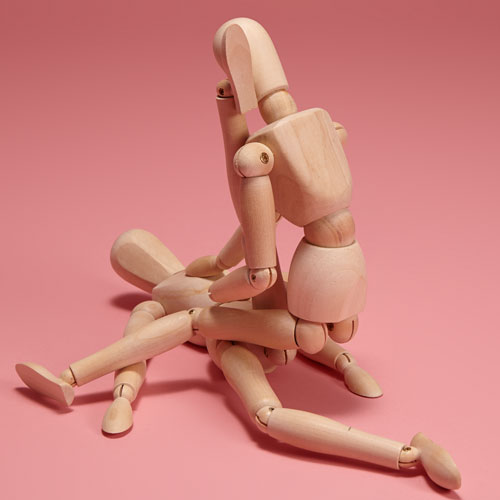 Take your night to new heights with the sexy "Get It Up".
Many of us fall back on the good old missionary position with our partner, especially when we've had a long day or just fancy a bit of a quickie. Well, we're here to help you take your love life to the next level with our sex position of the month: The Get It Up.
The position is perfect for couples looking for deep, intimate penetration, and is a great way to ensure your G-spot gets some much needed stimulation.
Start with some missionary loving initially, and make sure you keep lots of eye contact. Then, put one leg over your partner's shoulder and rest the other on the bed. Your partner will be able to give you some deliciously deep penetration while their hands will be free to roam all over your body – making sure your breasts and clit get some attention too.
If you want an intense orgams that will rock your world, we highly recommend introducing a clit stim or a vibrating cock ring for a mind-blowing blended orgasm.
Sex Position: Splitting Bamboo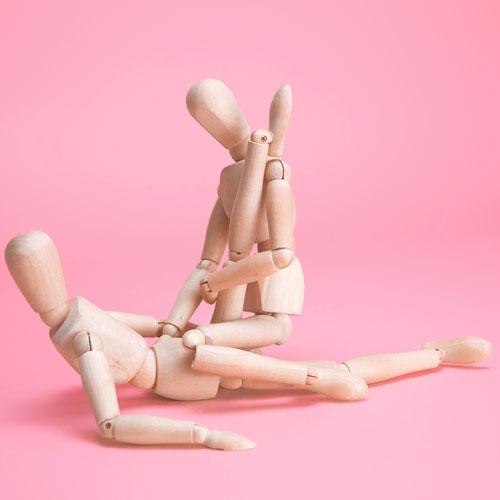 Splitting Bamboo provides both clitoral and internal stimulation for you and a fantastic view for your partner.
This position requires a little effort for maximum reward.
Lay back and have your partner straddle one of your legs, placing the other over their shoulder. This angle allows you to press and rub your clitoris on your lover's leg whilst they are inside you. Make small, circling motions with your hips to make the most of the clitoral contact during penetration. Encourage your partner to play with your nipples for added stimulation. Lube up for intercourse to make everything feel more intense, then have your partner use their lubed up fingers to rub your nipples, rolling them between their fingers and tweaking them slightly. Using the Core Pleasure Lubes makes the possibilities for pleasure endless. Explore with Cool Tingle lube; apply and gently blow on your nipples for an icy sensation.
If you wish to reciprocate the pleasure, lean forward and caress your lover's scrotum.
The Splitting Bamboo position is perfect for communicating – with you and your partner facing each other you can more effectively express what feels great and what brings you closer to orgasm. Facial expressions may be enough to direct your partner but you can up the ante considerably with a little dirty talk. Looking into your partners eyes, tell them exactly what it is that you're enjoying, or how to make it more satisfying – the more descriptive the better.
Sex Position: The Full Frontal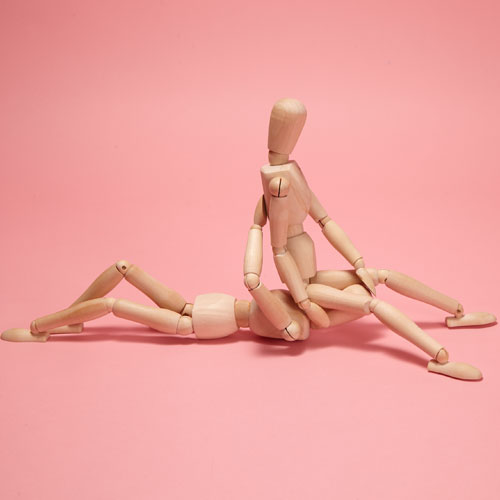 Take a seat. It's time to get fully acquainted with The Full Frontal: the ultimate way to experience incredible oral sex.
Splitting Bamboo provides both clitoral and internal stimulation for you and a fantastic view for your partner.
Have your partner lay back, and like the queen you are, take a seat on your throne. With your legs bent, kneel either side of their face and lower yourself towards their mouth. Have your partner reach up and use their fingers to expose your clit before they get started – this direct stimulation is guaranteed to make you orgasm in record time. Oil up your boobs and take turns massaging, tweaking, grabbing and groping…
If you've never tried face sitting before, trust us: now is the time. Being above your partner is not only a huge turn on for them, but it allows them to deeply penetrate you with their tongue. Want to take even more control? Gently rock your hips and get your grind on.
And don't forget to reward your partners good work, because giving feels just as good as receiving, right? Lean back and gently stroke their shaft and scrotum. Use lube to make your hand job extra slippery for intense stimulation. Keep it tasty and opt for a flavoured lube so you'll get a sweet treat when it's your turn to return the favour. We don't know why they called it a blowjob because it should never feel like work. Want to learn more about oral? Get top blowjob tips from our guide.
Sex Position: The Lover's Lock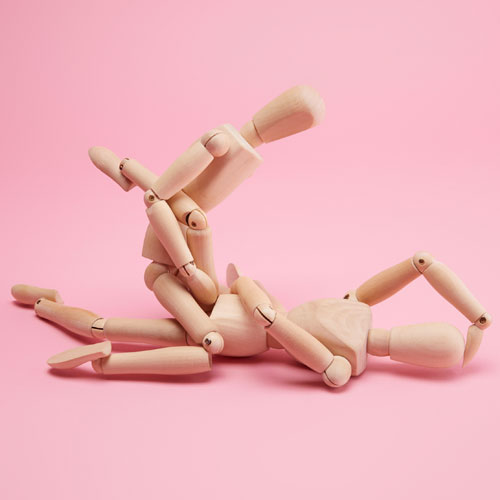 This Valentine's Day, pleasure is guaranteed. Why not try a new move or two in the bedroom? Follow our guide to get the most out of The Lovers Lock – a position perfect for February 14th.
The Lovers Lock involves you laying on your back, hips slightly tilted as your partner straddles one of your legs and enters you with the other wrapped around their waist. This position allows you to make the most of any Valentine's lingerie you're rocking and with your free hands you can stimulate those red-hot zones.
This intimate position allows your partner to read your facial expression and take direction – ensuring you get it exactly how you want it. With your partner deep inside you, rock your hips back and forth for intense G-spot stimulation. If G-spot massage alone isn't enough to bring you to climax, have either your partner or yourself massage your clitoris and add a small bullet vibe for extra sensations.
To make your Valentine's red-hot freeze an ice cube tray of lube – from foreplay to The Lovers Lock, these will help you up the ante.
Rub your lips with the frozen lube before oral, pop a cube inside yourself to melt during intercourse or trail one down your torso, lubing up and stimulating your nipples.
The cold of the ice will heighten sensations and the lubricant will ensure that everything feels mind-blowing – take it from us.
Grind, rock and roll your way to climax.
Sex Position: Joystick Joyride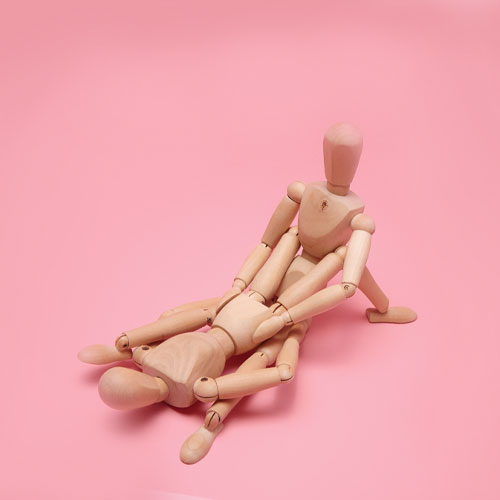 We bet your Christmas dinner was epic, right? Maybe so, but like the turkey, you must be totally stuffed! You may have doubled your calorie intake, but don't panic, just 42 minutes of doing the Joystick Joyride will burn off your meat feast and give you mind-blowing orgasms.
Take control and straddle your partner; keeping your feet out in front and knees slightly bent. Hold on to their shoulders so you can change gear when you want to ride harder. Meanwhile, get him to hold you by the hips to help control the pace – this will make him raise and tense his core while watching you enjoy every thrust.
This is the perfect reason to use plenty of lube, as your clit will benefit from rubbing against his lower stomach. Add a cock ring for added vibrations, or reap the benefits of this intimate face-to-face sex position by indulging in urgent kisses, eye contact and dirty talk.
Trust us, once you've experienced the Joystick Joyride, you'll wish it could be Christmas everyday.
Sex Position: The Bucking Bronco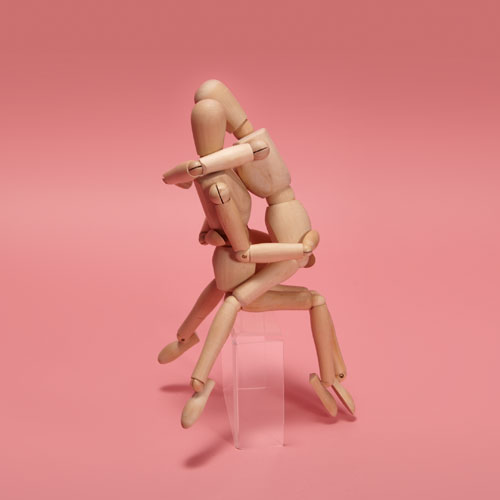 Want earth-shattering orgasms? Then try the Bucking Bronco. This fairground favourite is even better when it's X-rated.
Straddle your partner whilst he's seated and take turns in rocking and riding. Kneel for a controlled bounce or place your feet either side of your partner and squat your way to hard, fast and intense orgasms. This position allows you both to take the driving seat and alternate between deep penetration and slow, teasing squats. The added friction of his lower abdomen rubbing against your clit makes this a great position to achieve multiple orgasms. Want him to take control? Crouch and hover slightly above him; hold his shoulders and allow him to thrust away beneath you. Giddy up!
This position also gives the opportunity for nipple stimulation. So, make the most of the pleasure receptors located in your boobs and let your partner suck, lick, tweak and stroke. Breast play can be a huge turn-on for you both, too. Want to kick things up a notch? Cover your boobs in nipple rub and have every sensation heightened. Want to find the pain in pleasure? Include nipple suckers or clamps in your Bucking Bronco ride.
Ride it cowgirl!
Sex Positions: Carry on Climax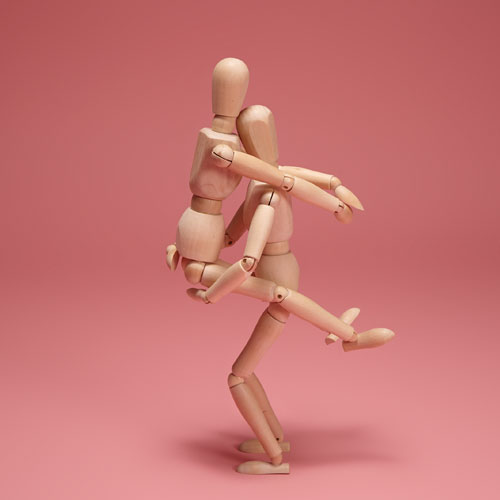 Get fast, furious and rampant with Carry on Climax. This sex position is ideal for a quickie and the perfect way to spice things up away from your usual bed bound routine. Jump up and mount your partner, wrapping your legs around their back, with their hands supporting your bum as they push you firmly against the wall. This is the ultimate position for when you urgently need it.
As they enter you, find your rhythm as you both experience the satisfyingly deep penetration this position guarantees. The weight and lift element of this sex position means your clit is in full contact with their body, so add plenty of lube to slide and ride that lip-bitingly good friction as they thrust into you. If you need support for a longer sesh, try it against the kitchen work top or try perching on a desk or the back of a sofa. With your weight supported, this will leave their hands free to explore and allow you to widen your knees for maximum impact. Use your hands to lightly drag your nails up their back and send shivers down their spine.
To add more kink, try using a riding crop and spank them lightly to go faster, harder or keep them under control. Giddy up!